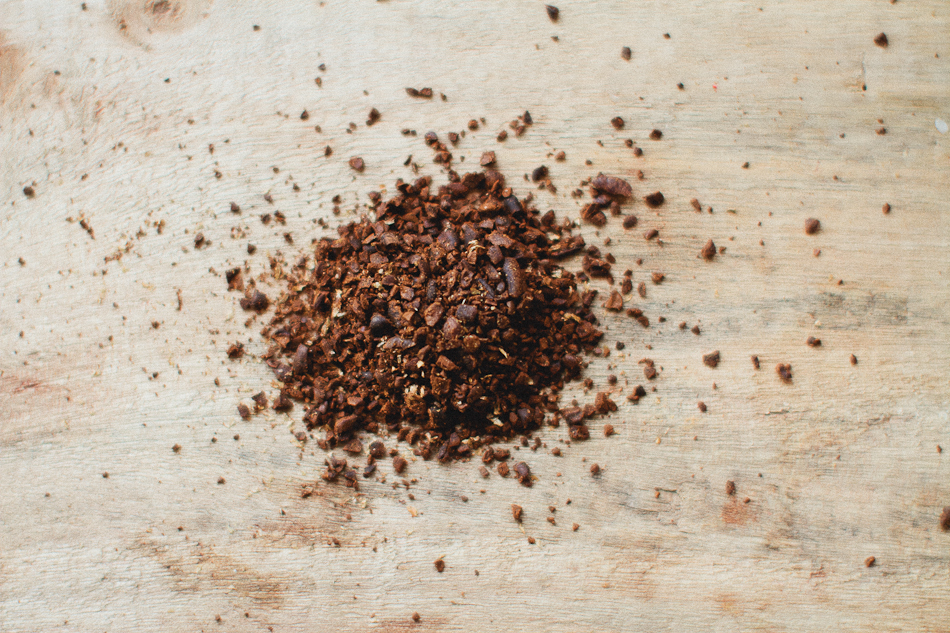 We have a lot of used coffee grounds around our house. The grounds from all Ben's coffee cupping, the espresso "pucks" (yes, they are actually called that) from all our espresso drinking, and the French press grounds leftover from those times when espressos just won't do. That adds up to A LOT of coffee.
Here are some of the best ways we've heard of that put those grounds to good use.
10.Coffee Exfoliator. I think one of the most interesting uses for used coffee grounds is as a facial and body exfoliator. The caffeine in the coffee is a stimulant it helps skin cells and promotes healthier, tighter skin. According to some, the caffeine in coffee shrinks blood vessels. This helps improve the appearance of varicose veins. You can add mineral oil, vitamin E oil, jojoba oil or olive oil to coffee grounds and then apply directly to your skin.
Wanna get fancy? Try this Coffee and Lavender Sugar Body Scrub recipe from Joy the Baker… Since I don't have vegetable glycerine, I'm going to make  my scrub with olive oil instead!
9. Plant food. We place used coffee grounds beneath our plants in the soil. It does seem to work, as both a fertilizer and a pest repellent.
8. Insect Repellant. Place coffee grounds anywhere outside that you would rather not see ants. They don't like it and will go running for the hills if it's placed near your doorstep or by windows.
7. Deodorizer. Dry grounds on a cookie sheet or flat surface and then put them in a bowl in your refrigerator or freezer. Add a touch of vanilla or even essential oils to the grounds to add a nice smell. You can also rub grounds on your hands to get rid of food prep smells…. like onions and garlic.
6. Hair and clothing dye. I've heard people say that brunettes can rinse their hair in coffee grounds for a darker sheen, but I have yet to try this one myself.  To try it on your hair: Steep used coffee grounds in 2 cups hot water for 15 minutes or so and then rinse through hair for a darker, more vibrant shine. For clothing: Re-steep the grounds in hot water and the submerge clothing. I've also heard people have success with running a cup of coffee (not including grounds) through their brown clothing in the wash to temporarily rejuvenate the brown color.
5. Cleaning scrub. Tough places to clean that need an abrasive cleaner? Give the ol' coffee grounds a try.
4. Flea Reducer. After you give your dog a bath, rub dried coffee grounds through the coat of your pet, and then brush out later if needed. Coffee grounds are said to repel fleas.
3. Hide Those Scratches. Did grandma's heirloom table get a scratch? Re-steep some used coffee grounds and reduce the appearance of the scratch by coating it with the steeped brew
2. Cat repellant. Don't want the cat to step all over your garden lettuce? Place coffee grounds where-ever you want to keep kitty away.
1.
Develop film in coffee.
As a film lover, this fun fact blew me away! Re-brewed coffee as a film developer? Yes, mam! You definitely can develop black and white film in re-steeped coffee grounds. Don't believe me? For a full tutorial head over to 
Photojojo
 and check out some examples in the
Caffenol pool
on Flickr!
Don't feel like trying any of the above? Then just chuck the grounds into your compost pile for a rich composting agent.