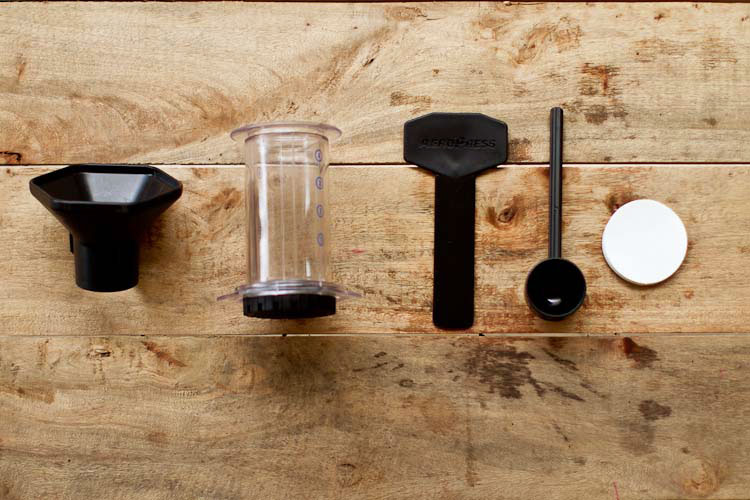 Not an espresso, not a filter coffee.  The AeroPress is a hybrid coffee making method.  You will be left with a cup of coffee full of complex flavor and bursting with aroma.  Using espresso-like extraction, instead of brewing the ground coffee, gives your palate a similar experience to having an espresso.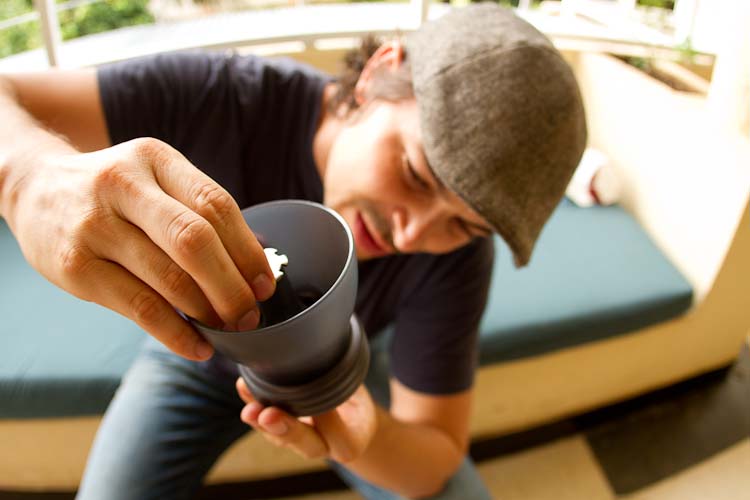 1. Get your grind right. Many grinders can be adjusted to different settings depending on what coffee you are brewing. Even my little Hario hand grinder can be adjusted.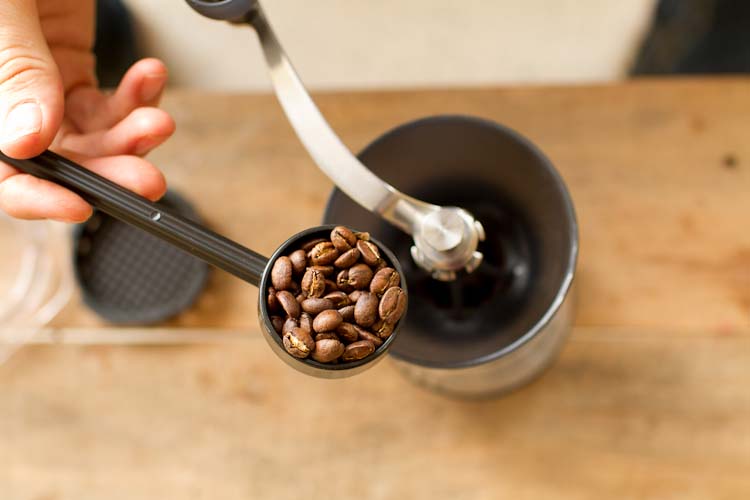 Use the provided AeroPress scoop (apx.3 tablespoons to one AeroPress scoop) to generously deliver one scoop of coffee for every ounce of water. Your grind should be just a bit more course then an espresso grind. If it's too fine, you won't be able to press the coffee without tremendous difficulty.  If it's too course, the coffee will run out fast with little to no pressure.
2.  Fit the paper filter into the AeroPress and pour a small amount of hot water through the press to pre-heat and rinse the filter.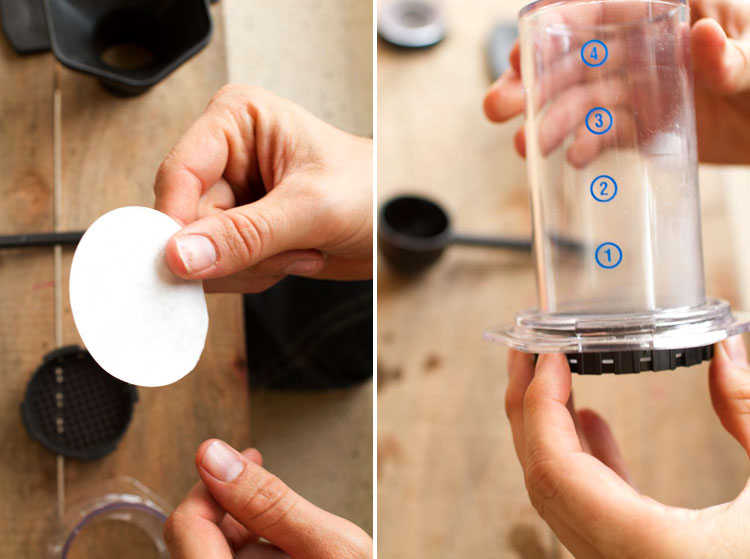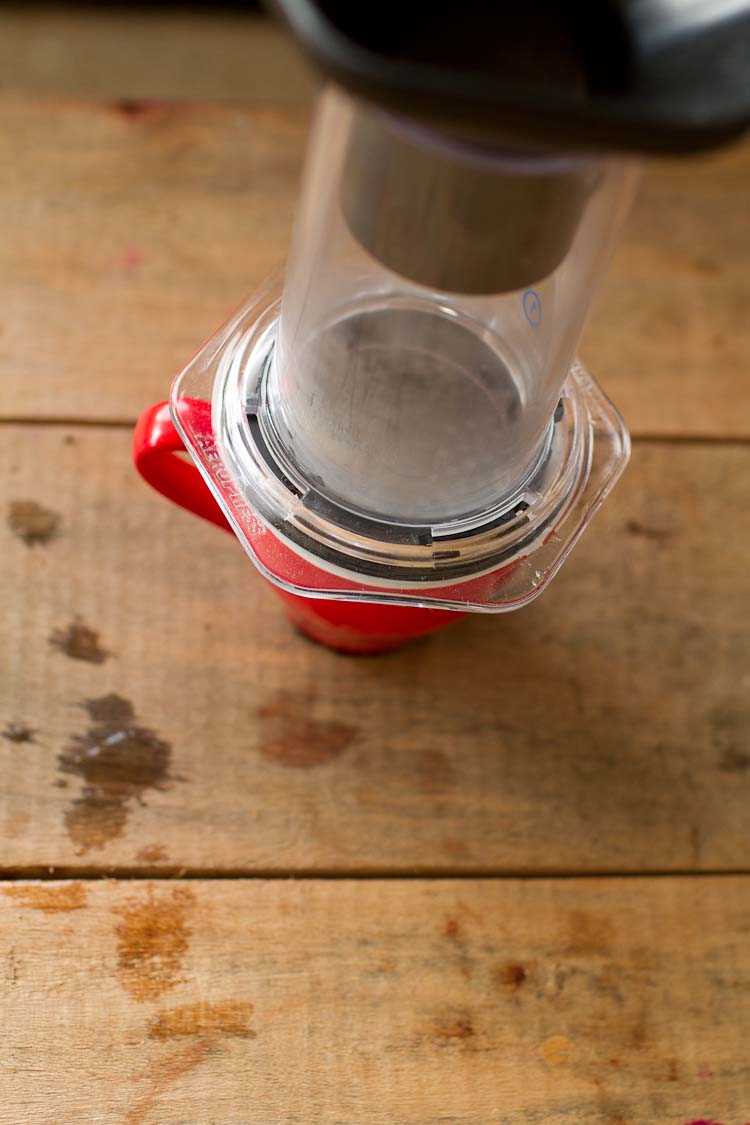 3.  Add the ground coffee into the Aeropress (use the provided funel to prevent spills, or don't) and pour in the off boiled water.  For off boiled water wait 30 seconds after the water has boiled before pouring it onto the coffee, or get really serious and use a temperature gadge to get the water exactly at 175*F/80*C for optimal brewing. Add water only up to the mark (1-4) equal to how many scoups of coffee you used.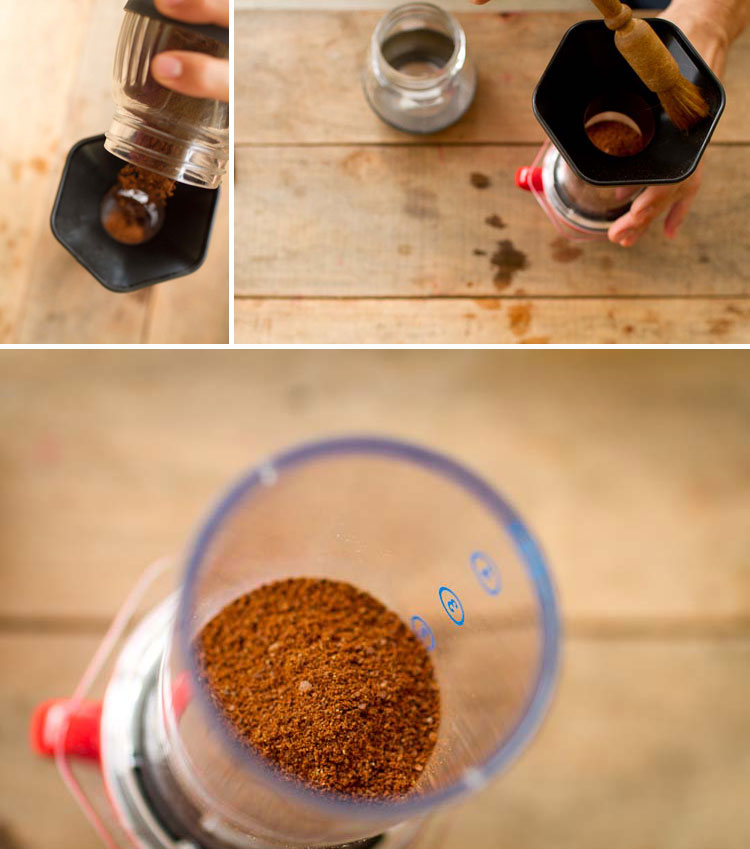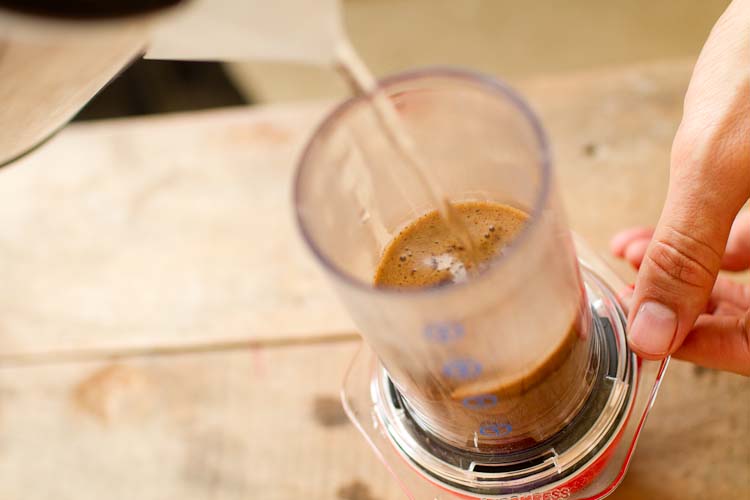 Really this is just a suggested amount of water to coffee ratio.  I personally add 3 scoups of coffee and add water to the 4 scoop line.  Taste multiple cups and make it to your taste.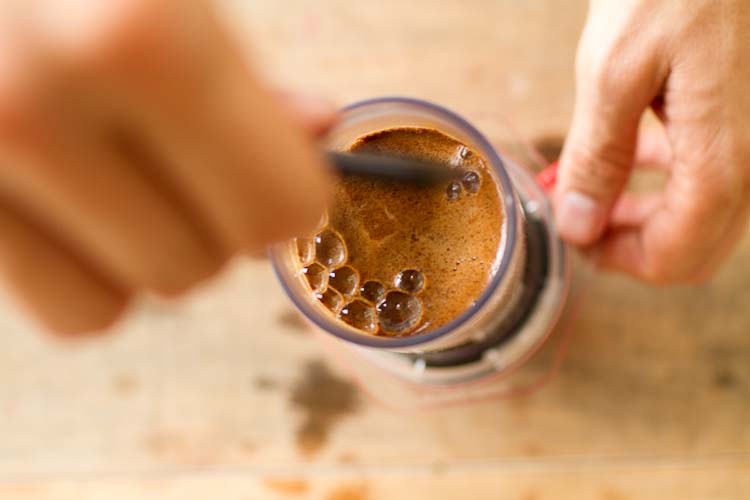 4. Stir 10-15 seconds.   I call this agitating, and my wife saying I'm very good at it.  This step must not be skipped, it guarentees even and maximum extraction of flavors.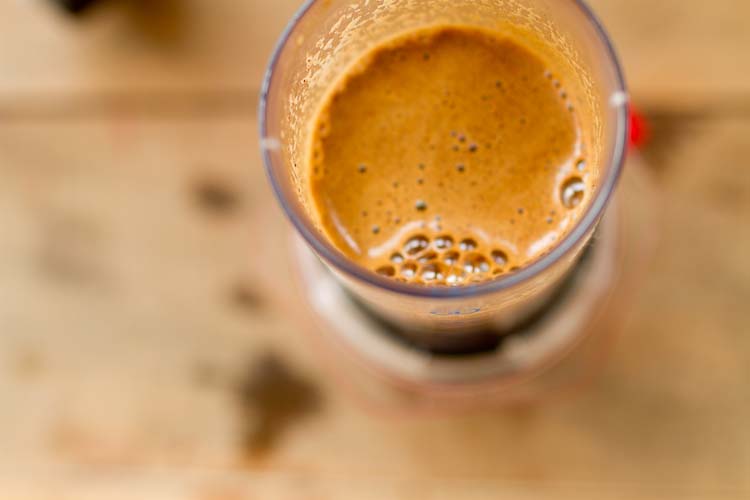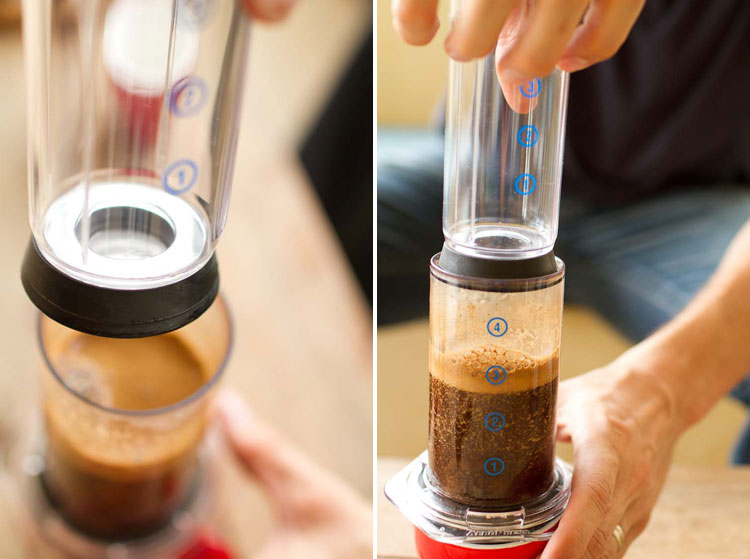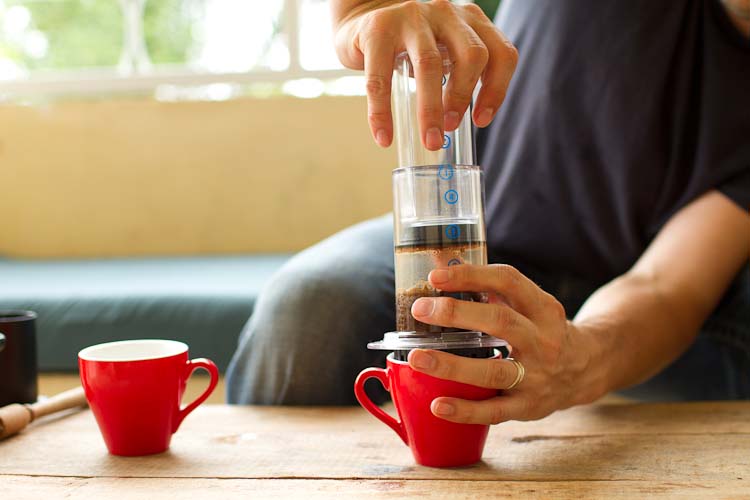 5.  Fit the "plunger" and palce the AeroPress directly over a pre-heated cup.  Slowly push down half way. Place over a second pre-heated cup and slowly finish the extraction by pushing until the rubber stopper meets the coffee grounds. Enjoy!  Some like to add hot water to make this delightfully potent and small coffee into an Americano, and I'm of the opinion that there is really no reason you shouldn't take your coffee however you want.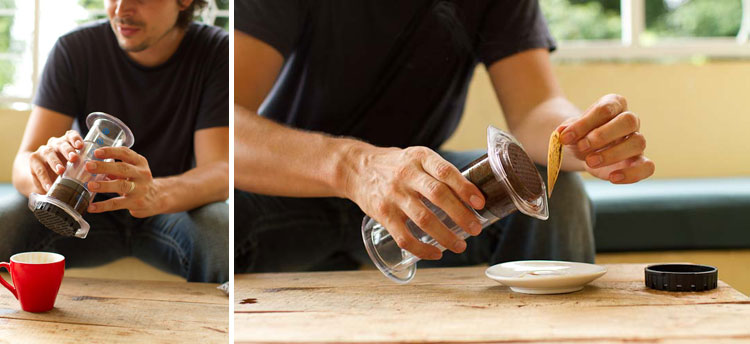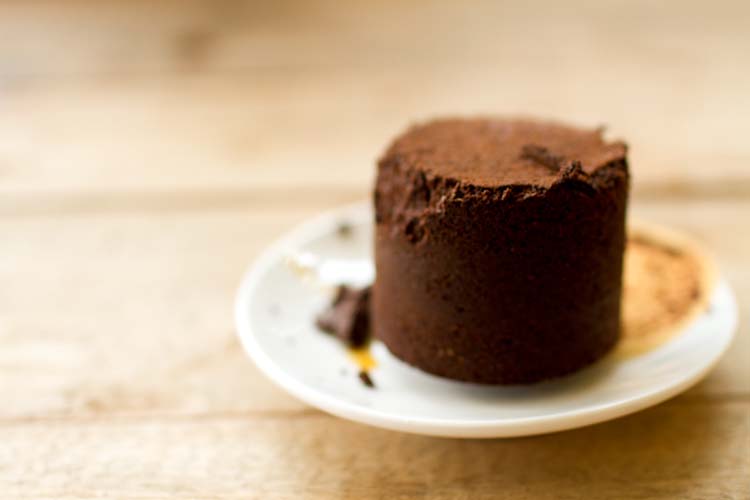 6. The AeroPress produces a near perfect "puck" when you turn the coffee grounds out after brewing. You can rinse the paper AeroPress filter and use it again (especially if you live in Central Africa where new filters are hard to come by) or you can dump the filter and grounds into the compost or even directly onto the soil beneath your plants. Plants love coffee almost as much as we do!
No matter how you like your coffee, the AeroPress is one of the smoothest, cleanest and most beautiful ways to extract amazing flavors you will not be able to attain through using a French press or drip brew device. Need to buy one? Try here.
Looking for more Brew Guides? Here they are!
CG