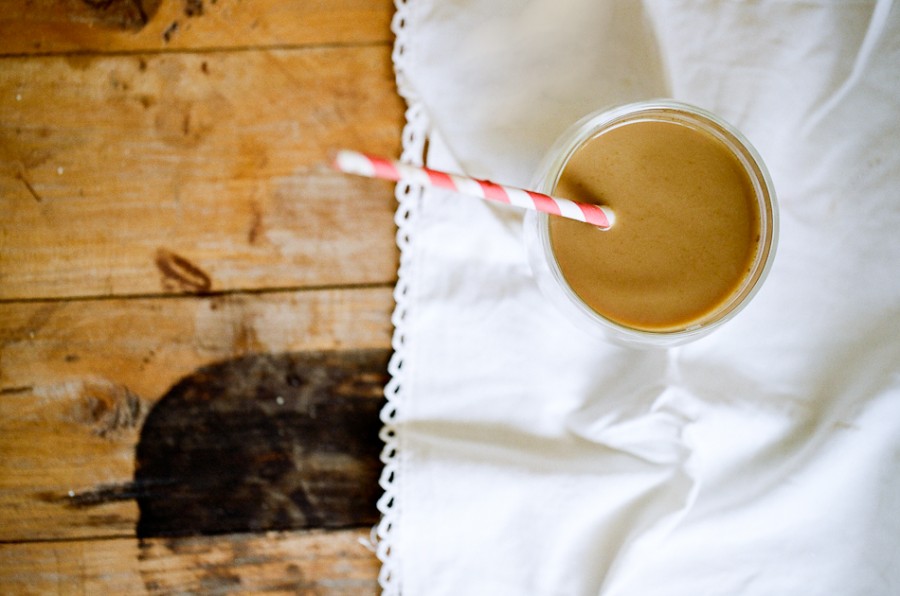 Have you ever wondered what Christmas gift to get the coffee guy who has everything? I sure have! Being married to the coffee-est-coffee-guy of them all, I often have a difficult time figuring out what the heck to get him. Here's our list of coffee stuff you can't go wrong with.
GRINDERS
It is often argued that the grinder is the most important cog in the coffee making process. If your grind is off, your coffee will be too! And buying pre-ground coffee? Well, that's a sin most coffee lovers won't forgive you for. Coffee begins to loose it's favor as quickly as four minutes after it has been ground. Don't let this daunt you. Here's our list of the best grinders around in each price bracket. I will keep this explanation simple because we have a lot of coffee ground to cover. We recommend burr grinders. Here's why. They crush the coffee at an even rate, while blade grinders cut the coffee at various consistencies. If you want a consistent cup of coffee, you should have a grinder with burrs, conical (the way they are set) ceramic (what they are made of) burrs are best.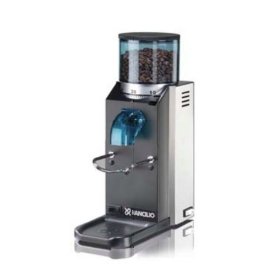 Rancilio Rocky SD 1 lbs Rocky Coffee Grinder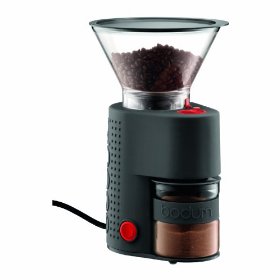 Bodum Bistro Electric Burr Coffee Grinder
Not ready for this kind of financial commitment? Here's our top pick for a blade grinder, although we do recommend the Hario hand grinder (non electric… get those muscles working) over it.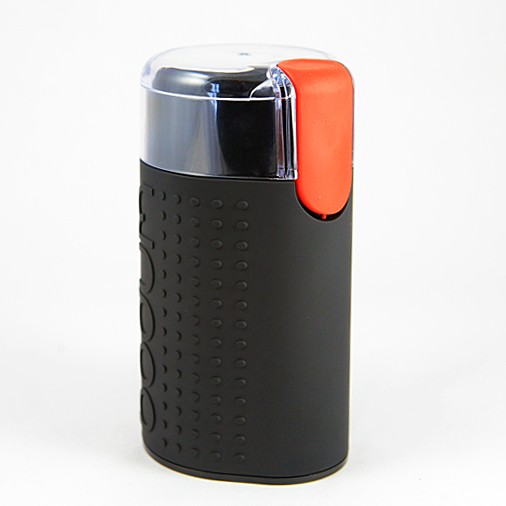 Last, but NOT least our favorite grinding method. We often lack electricity and this grinder has kept us brewing coffee even when that happens! It just takes a bit of elbow grease! Great for camping, power shortages, you know… the usual. You can also do a search for "vintage coffee grinders" on etsy or ebay to find a vintage hand grinder instead of the new spiffy one below. Just make sure all the parts are working and clean before committing to buy one of these.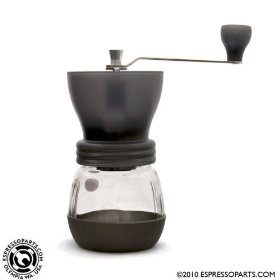 Hario Skerton Hand Coffee Grinder – Ceramic Burr Coffee Mill (coffee grinder)
With all these grinders, except the Bodum Bistro, you can set the grind for the coffee you are brewing (courser for a french press, finer for espresso).
BREW METHODS
AeroPress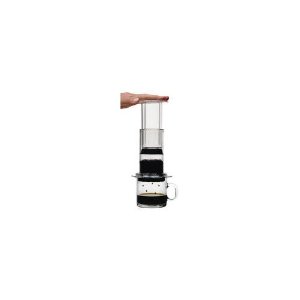 Aerobie AeroPress Coffee and Espresso – w/zippered nylon tote bag 
For around $27.25. Look for a blog post here detailing how to brew an AeroPress next week.
French Press
There are about as many French press options as there are people on this planet. If you need help brewing one, head OVER HERE. We like the Bodum Columbia French press 4 cup for around $60.
If you are looking for a less expensive French press, we recommend the Bodum Brazil with a stainless steel screen (it comes in a 3 cup version or an 8 cup version). If the screen inside is plastic, your French press is likely to break much quicker. The Brazil also comes in lots of fun colors! Yippie skippy!
Pour Overs
If you want to own a brewing masterpiece. We highly recommend owning a pour over system. There is the beautiful Chemex (to learn how to brew one go HERE) for around $40.
Or the Hario V60 dripper for about $30, but we looooooove this gift set with filters and cup for $65. It is a single cup pour over, and ohh so pretty.
Keep in mind that you need to also buy paper filter papers for both the Chemex and the Hario dripper. You can buy a stainless steel screen for your Chemex called the Coava Kone. We don't have one, but we hear they're nifty.
Siphon Pots
There are a whole lot of Siphon Pots out there. Brewing them is like conducting a science experiment, so if you have a science buff who likes coffee… this is a great gift!
We like this one:
Northwest Glass Siphon Vacuum Pot for about $60.
You can google for plenty more. There are even Siphon pots out there that you can brew on the stove-top instead of with Methol Hydrate (but that feels a lot less like a science experiment to us!).
Moka Pots
Bialetti 6-Cup Stovetop Espresso Maker
Stick 'em on the stove with a little coffee inside and "Presto" you have espresso! Or something that sort of resembles it. I have an enamel covered cream version of this moka pot that is "oh so pretty", but I looked high and low online and could not find that one for you! There are quite a few variations of these, but we think Bialetti makes the best ones.
Espresso Machines
This is a tricky subject in our house. I keep trying to get Coffee Guy to recommend a more affordable option than the Rancillo Silvia (at $630) but he refuses. This is as low as he will go folks.
Which is a drop in the bucket when compared to the stunning, amazing
La Marzocco GS3 (which Coffee Guy was drooling over a moment ago).
In our house we have the 
We love it lots… the fact that Coffee Guy traded himself in for it makes it even better. It's tempermental and we have to hit it sometimes, but it's a member of our family now… even if Coffee Guy is drooling over the LaMarzocco above.
KETTLES
Most brew methods require that you heat some water, which makes having a kettle on hand absolutely essential. We love the ease of electric kettles, but there are some great stove top ones as well.
for about $60
That funky curve on the nozzle helps you to "direct the pour" Coffee Guy just informed me. He also said, "The geekier you get, the more important that will become to you." Here's to that!
For your stovetop we recommend the
Hario V60 Coffee Drip Kettle Buono
 at around $50.
Or the
Kalita Thin Spout Kettle – 700mL
at around $78 (this one made me drool a little… but I like shiny things!).
Or, if the spout does not concern you, but color makes you weak in the knees, I would suggest that we all allow my Le Creuset obsession to continue by buying this bad boy… in nearly any color you like.
Hubba, hubba! Yes, i'm still looking at the kettle. Moving on…
COFFEE GEEKERY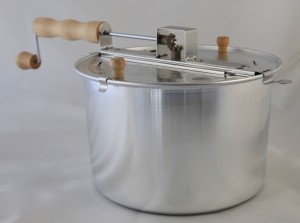 Yeah, you heard right. This popcorn popper can be a great home roaster according to our friends at Sweet Marias.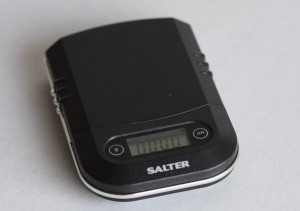 The geekier you get the more you want to measure. For real, I've seen it happen to Coffee Guy.
COFFEE BEANS
Now, the reason you are not going to see us jumping up and down and pointing you in the direction of some great Burundi coffee is that…. it has not left the country yet. We are feeling a bit sheepish about that, but Coffee Guy has been working his little bum bum off to try and get it outta here. There is a lot of red tape and a whole lot of crazy goin' on over here. What we can tell you is that there is a little bit making it's way to the USA right now. Hopefully the rest will follow suit soon.
Instead of recommending specific beans (how could we ever cheat on Burundi coffee) we would rather tell you about some roasters we respect. People who put a lot into helping farmers and giving you a great product. Here we go…
Dogwood Coffee, Minneapolis MN
Intelligentsia Coffee,  Chicago and beyond (if you are a Midwesterner, we know for sure that Angry Catfish in MPLS uses Intelligentsia coffee).
 Stumptown Coffee, Portland and beyond
 Gimme Coffee, NYC and beyond
Bean There Coffee Company, Johannesberg and Cape Town
Try your hand at roasting coffee at home. Buy green beans from Sweet Marias, Oakland, CA and beyond.
Many of the people who buy coffee for these businesses, or own them, have passed through our doors this year. We can tell you they care. About quality and about people.
Whew, did we miss anything? Let us know below if we did!
Happy Shopping!
*this is a revised post, originally publish December 9, 2011