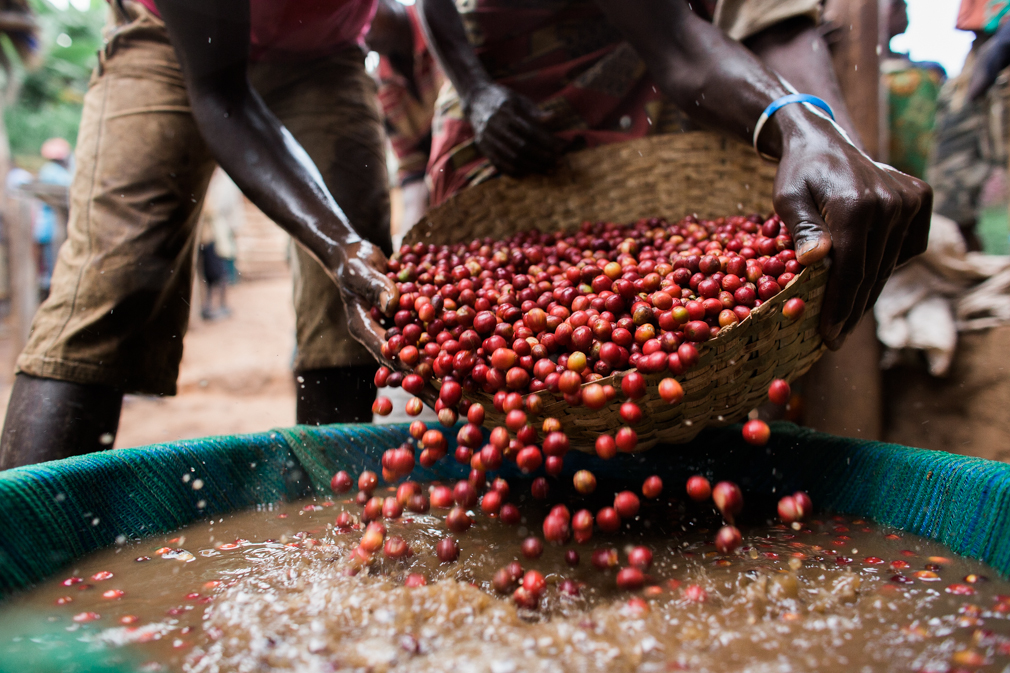 Every harvest is difficult. I think if you asked farmers the world over, "What do you wish people knew about farming?" The answer would be, "That it's BLANK hard." Fill in the blank accordingly depending on the farmer's location and what crop they are choosing to grow. A tomato farmer from France might say it's fairly hard but a wasabi grower from Japan would probably say that its damn hard. No matter the adjective, it's tough. It just is.
Every time you hold a cup of coffee in your hands, you hold someone's sweat and tears… and a whole lot of their anxiety. The same goes for everything we consume. Sure, there are the corner cutters out there who use pesticides and growth hormones to make production easier, but true farming and producing takes more grit than I ever knew it did.
I have a reverent fear of harvest. At the beginning of each one I wonder just how broken we will be by the end. Who will collapse first and what will be the thing that brings us to our knees? I realize that paints a dramatic picture. As much as I crave leaning away from drama, we've done nothing but embody it and become absorbed by it since we started producing coffee. Here's our story…
2013 THE BEGINNING
Our first ever harvest was in 2013. In January of that year we had a crazy idea to build a washing station. We wrote a blog post and 48 hours later we had several donors who were willing to help us start. We couldn't believe it. Harvest was just eight weeks away and we were walking the bare land of what would be the washing station. We were in a race against time. Building began in a fury and even now, traces of that fury remain. Stairs of every width and depth grace the station as if someone laid the cement with a tiger perched on their backs.
The community didn't know us and we wondered if they would trust us with their coffee. As it turned out, most of them decided not to. Our shiny new depulper, the one machine needed to produce washed coffee, got stuck in customs. We bought two old hand crank depulpers and processed everything through them in our first season. Wet cement dried right alongside the coffee that year as the Bukeye station was still under construction as the coffee trickled in.
When harvest came to an end, The McKinnon finally cleared customs. We produced a measly eighty bags of coffee that year, just a quarter of one container. We didn't export our harvest until seven months after it was produced because we had to figure out how to get the twenty seven stamps and signatures needed to export coffee out of Burundi. Needless to say, our coffee that year didn't taste very good. We begged roasters to stick with us, but in the end many of the roasters rejected their lots upon their arrival in the States. The quality was just not good enough and we were forced to sell parts of the harvest however we could to whomever we could.
2014 THE HEART
We were sure we had finally pulled it all together. We would be prepared for this harvest. We took on an investor and that would allow us to break ground on a second washing station. This one would be bigger and better.
We found a piece of land in one of the most remote regions of Burundi that took our breathe away. We called it Heza, which means beautiful place in Kirundi. The mountains surrounding Heza were covered in coffee trees up to 2250 meters above sea level.
We hustled to get everything in place for harvest but again, we fell short. This time, we were overwhelmed by problems we had not foreseen. Heza did not have enough water. Without water, there would be no coffee production.
With harvest looming just days away, we drove up to Heza with high hopes of coaxing a water solution out of the day. Just as the half-built Heza came into view, our car came to a thumping and unintentional stop. We had brought invested visitors with us and we were excited to show Heza to them. When we asked one of them what he thought of Heza he said, "It's a great Taj-Mahal white elephant." The words stung because they were coated in truth. We were out of money and out of time, and standing by our broken down car in the middle of the remote Burundian countryside we felt trapped by our own makings.
When we finally got home that day, I painted a great big sign with the words, "We do not lose heart" in blue cursive letters.  I taped it to our living room wall right over the couch and it stayed there until well after harvest was over. Every time I looked at that sign I could breathe a little deeper and believe a little harder.
As harvest came, our station sat silent. There was no whir of a generator or clacking of a McKinnon. There was no water. No matter how well built the new rinse tanks and tables were, we could not produce coffee.
We decided that we would collect a harvest anyway. We had told the community we would begin, and we felt we needed to try. We trucked coffee cherries every night from Heza over switchback mountain roads to our Bukeye station forty-five minutes away. One night, a competing washing station blocked the roads and demanded that our team stand down. They carried on. In 2014 we produced nothing from unique hills on Heza. All the trucked lots were combined into one hill that we simply called "Heza." It was all we could muster and it brought our Bukeye station to the very brink of its capacity. To our surprise, those who drank it appreciated it. Maybe there was hope that we could one day produce a great cup of coffee?
2015 THE TROUBLE
It began with protests and tear gas and escalated until bullets and grenades rang through the air every day and night. There was no school for the kids. I baked cookies in the kitchen with them most mornings, the radio blaring to drown out the sound of gunfire. We kept a "go bag" near the door with our passports and money inside. We stood ready to flee but our feet felt like led.
As harvest reached it's fullest middle, a coup d'etat graced the capitol city where we lived. Overnight, our world changed. Most Burundians and ex-pats with the means to do so left the country. Over 250,000 refugees were reported. We retreated upcountry to the safety of the farmland and coffee harvest but even there, cracks in Burundi's thin shell of peace were appearing.
Our boys had been out of school for nearly a month and in that month we trespassed upon the hospitality of nearly everyone we knew who lived in a more remote region. When we were in the city, we trolled daily social media reports to assess the security situation before we went out the door. I was pregnant with our third baby at the time and whenever I left the house I questioned it… Can we make it to school today? Can I get to the market without getting caught in crossfire?
It became evident that life in Burundi was no longer sustainable for our family. With harvest still ongoing, we made the decision to leave. We didn't know how long our exit would be for and we were leaving a team of people behind us to carry on in the chaos. It felt wrong, but we've always said that the safety and health of our family has to be a priority and so, during mid harvest, we made it one.
Ben continued to fly in and out of Burundi while the boys and I, and a growing baby girl, stayed firmly in South Africa. We began to build a new life, but how long would it be for? In the end, our 2015 harvest was better than any before it and the growing demand for Burundi coffee left us feeling hopeful about the future, if only peace would return.
2016 THE RATTLE
The dust had barely settled from a large scale military base attack in the city of Bujumbura when we touched back down in Burundi. Making the decision to return with our growing family had been riddled with uncertainty.  It looked like the same old Burundi, but nearly everything and everyone had changed. People were being taken and there was no finding them. Forces were searching the homes of whomever they wished and they did not come in peace. There were whispers of mass graves. Everywhere there was fear. Was this the start of war?
I often traveled upcountry and left our five month old in the city, but I struggled to stay calm. What if I couldn't get back to my kids? What if the roads were closed? What if they decided to search our home while I was gone? I dropped the boys off at school with trepidation. Was it a good idea for them to be a fifteen minute drive away? I asked the school what they would do in case of an attack. I began to feel lost in the sea of sad stories that surrounded me. Stories of torture, disappearances and injustice were everywhere.
Harvest began. All went well until we had more coffee than some thought was necessary. Our oldest son was with us one evening when we were surrounded by a dozen armed men and told that we had to stop the farmers from delivering their coffee to us. "This coffee," the leader told us while waving his gun in the the direction of the coffee trees, "no longer belongs to you. Tell your farmers to take their coffee elsewhere." Fear carried us and all we could think about was the damage these men could do to our team or our family.
After the men left, our agronomist Jeremie said, "Yeah, I'll just go talk to them on Monday. It will be ok." We believed him and as harvest carried on, we kept our doors open to any farmer willing to deliver their coffee to us. Our team's continuous bravery during the entire season was an inspiration to us.
2017 THE DRAIN
Ben calls our current harvest the hardest one yet. I'm not sure what to call it, but the image of my husband in tears at our kitchen table will be with me forever. This was the harvest that frayed us to our very last emotional thread.
Our biggest challenge was navigating a country-wide fuel shortage. Power and water are the most basic needs of coffee production. In order to produce coffee in remote regions, fuel is necessary to power the generator that in turn powers the coffee depulper that is the key to washed coffee. We also needed fuel to get people and other resources up and down the mountain.
Our Operations Manager was glued to her phone, hoping that one of her contacts would tell her where there might be fuel. If a text came, she would race with fuel canisters in tow to the fuel station. Often, she would wait for hours in a line only to get to the front and be turned away because there was none left. Our lives became all about fuel until the fumes of it stuck to our hair and drenched the interior of our cars.
When our attention wasn't on the fuel crisis, it was on our water crisis. Heza, after three years and many attempts, still did not have a working well. Our water supply was critically low. We have tried to solve the water issue at Heza in so many ways that I have lost count of the attempts. On several occasions we declared that, "The well is finally working!" only to discover hours later that the pipes had given way.
This season we also faced a constant stream of changing laws. Right before harvest commenced, collection points were outlawed. We could no longer go to the farmers to collect coffee, they had to bring it to us. In past years collection points had been a way to save farmers valuable time and energy and improve our coffee's quality. This season it became commonplace to meet farmers on the road who were carrying their coffee to us from ten to fifteen kilometers away.
One evening Ben asked a farmer named Jean why he brought us his coffee when his farm was fifteen kilometers away. Ben was especially curious because Jean had passed two other washing stations on his way to us. Jean said that for twenty years the others stations had been taking a portion of his harvest for themselves.
Ben and Jean calculated together that unjust scales and the people behind them had taken six point six pounds of every twenty pounds of his coffee cherries, and they had been doing it for twenty years. Jean pointed to our coffee farms which cover the mountain above our washing station and said, "Your scales are fair and I see that you are also farmers. We are in this together. Twese hamwe."
Stories like Jean's kept us going through a season like no other. But that's just it… every season is like no other. The winds of challenge and change always blow in a choice assortment of new circumstances every year. And that, my friends, is why my heart races when I think of harvest. Next time you hold a cup of coffee, know that you also hold a story and probably a whole lot of struggle.
-Kristy