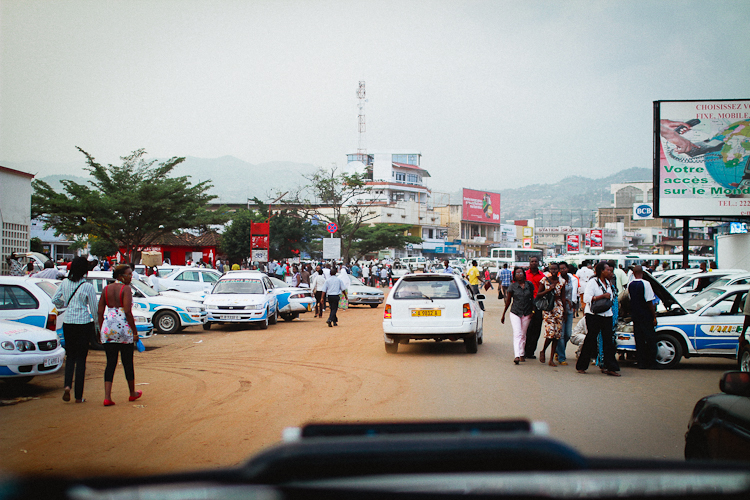 Today as I was driving to the gym, I started thinking about the things I don't tell you. The things I don't document because, well, they don't seem like news to me. I want to change that, so here goes… here's how I got to the gym today.
I began my drive by happily savoring the one hour of freedom I was getting from two crazy little boys when I came across a construction site that blocked my road. Hand built scaffolding was creeping like an insane vine up the side of a half-built structure. Thirty men, at least, were on the top of that structure. They were banging on buckets and hanging off of the wild scaffolding poles… and having an impromptu rooftop drumming circle. I looked up, totally entertained by them, then made a u-turn to find a new route. I found one, a tiny road full of traffic. There was a stopped car ahead of me (not unusual) and I rolled down my window to see what the problem was.
Once the stopped car began to move again I saw it, a gaping hole 1 meter wide and 2 meters long. When I say "hole" I really mean "place your car would never come back from." Ever. We are talking about a chasm that you can not see the bottom of located on a road so tiny that I bet I could touch both sides of it if I laid down in the middle with my arms stretched out. Well, maybe not quite, but pretty close. And remember, this tiny road was full of standstill oncoming traffic. The kind of traffic where people get a GOOD LOOK at you as you attempt to drive by.
While I tried to maneuver my HUGE vehicle around this hole, everybody was starring at me (an introverts dream… oh, I mean NIGHTMARE). I almost collided with 3 cars as I swung my huge vehicle into the "starers" lane and back towards mine. People began to shout "Courage!" from their windows. Others looked nervous for me, but most did not care. They didn't care because this is the type of thing you have to navigate every day if you live in Burundi. Its just no big deal… Unless you fall in, that is. If that were to happen you would be surrounded by a massive crowd in seconds. Instant celebrity! Luckily, that was not my fate and I made it through.
After I made my way past that tricky spot, I saw a dead dog on the side of the road. People walked past it and stepped over it like nothing was unusual. That got me thinking… As a photographer, I want to believe that SOMEHOW we have the ability to capture any given place or moment. I want to believe that, and I think that I did, until we moved to Burundi. This place slaps me in the face with smells, sounds and realities that are nearly impossible for me to convey to others. I feel like a little girl standing around with a butterfly net, swinging it crazily in thin air, trying to MAYBE capture something that allows you to SEE what I actually FEEL living here.
And that, my friends, is how I got to the gym on Monday.