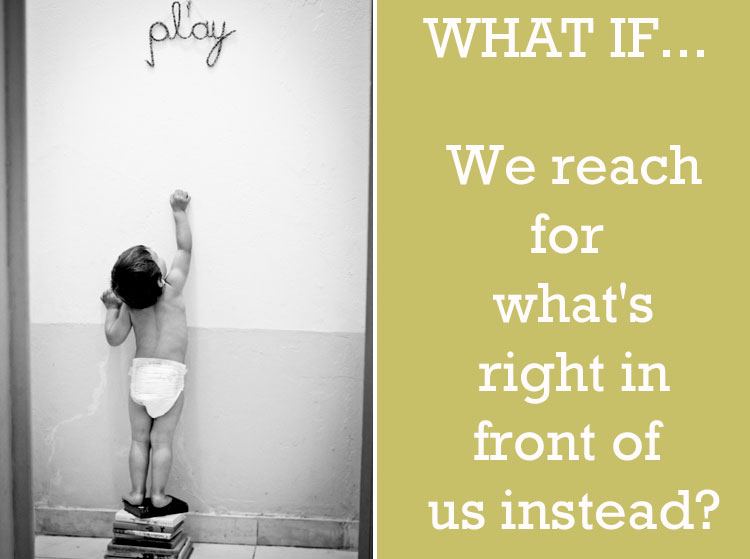 Sometimes I reach for it even though I know I shouldn't. I dwell in my gaping deficits. The difficulties I face… I "Eeyore it" all the way. I fight in my mind all day long to keep MY BEST SELF present. Not in the place of, "I would be more awesome IF…" (fill in the blank with just about anything). Nope, I'm trying to keep myself firmly planted in the great things about my NOW. Not in how great my life will be 2 years from now.
I am a wife, a mother and an
ARTIST.
Do I need a fancy pants logo,
or more cameras,
or an incredible Twitter following,
or to loose five pounds
in order to prove it?
Those things would be nice… but no, I do not.
"Life will be better when…"  is not the best place for my heart.
What if (work with me here)...
WHAT IF…
we can live our best life in the middle of what we see
as our gaping deficits?
Simply by
CHOOSING TO.
Not in an Eeyore, "This is as good as it gets"  kind of way,
but in an honest to goodness
"journey in the now" kind of way?
WHAT IF
the journey
is not about the place where
WE END UP
it's about
being MORE TRUE
and
BUILDING
GREAT THINGS
(into our kids, our families, our work…)
along the way?
WHAT IF…
We make the
CHOICE
to
reach for what's right in front of us instead?
…
All I know, is I'm tired of Eeyore-ing it…
and I've done my fair share.
Eeyore, the old grey Donkey, stood by the side of the stream, and looked at himself in the water. "Pathetic," he said. "That's what it is. Pathetic." He turned and walked slowly down the stream for twenty yards, splashed across it, and walked slowly back on the other side. Then he looked at himself in the water again. "As I thought," he said. "No better from this side. But nobody minds. Nobody cares. Pathetic, that's what it is."
-Winnie the Pooh
Love,
me