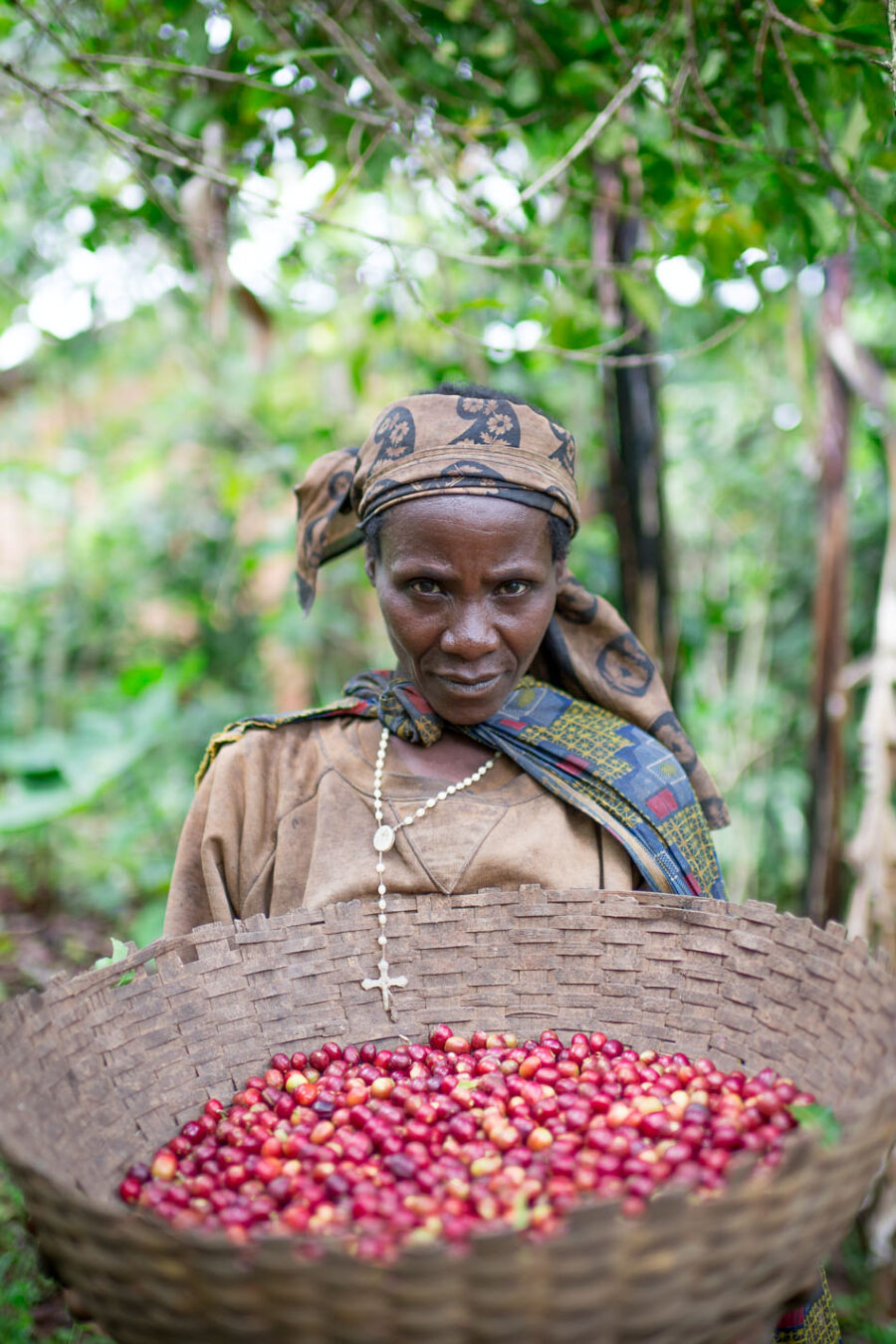 I woke up thinking about the way the equatorial morning light moves around the dense matter of humanity. Long shadows on the ground serve as evidence that there are spaces the light cannot fill. I feel like we have been living in those dark spaces for several weeks now, all the time fighting to get out from under the shadows. There are always problems with the start of coffee harvest, and this year's problems feel even larger than the last. Ben likes to describe problems as opportunities for growth and change. I am slightly less optimistic than that, more like a pessimist who still believes in fairy tales.
Our second washing station, Heza (which means beautiful place in Kirundi), has been a tooth and nail fight to build and get operational. Truth is, we are a bit weary. I stood on the dirt road near Heza last week overwhelmed by the sheer volume of problems in front of us. Water, McKinnon, collection points… all not yet secure while green cherries turn to red on the trees.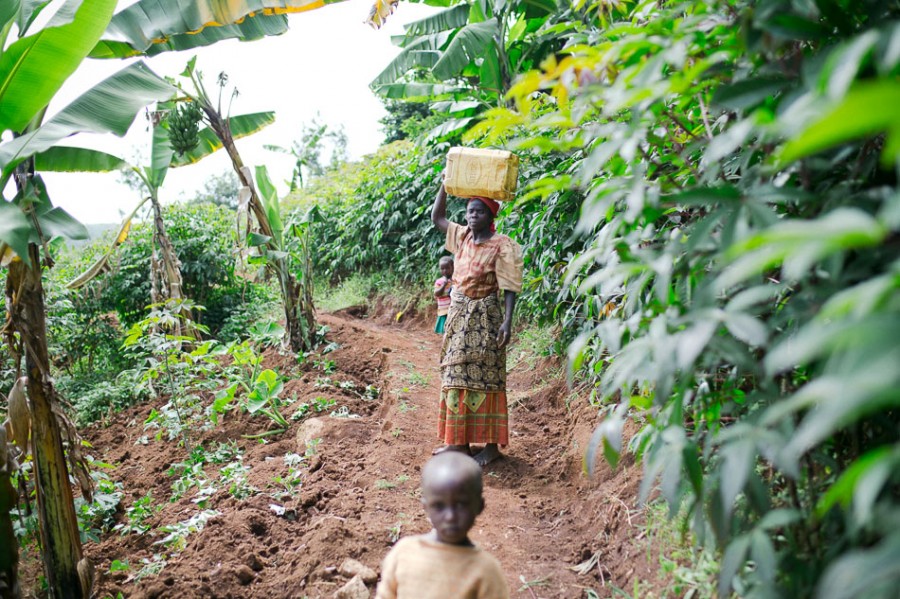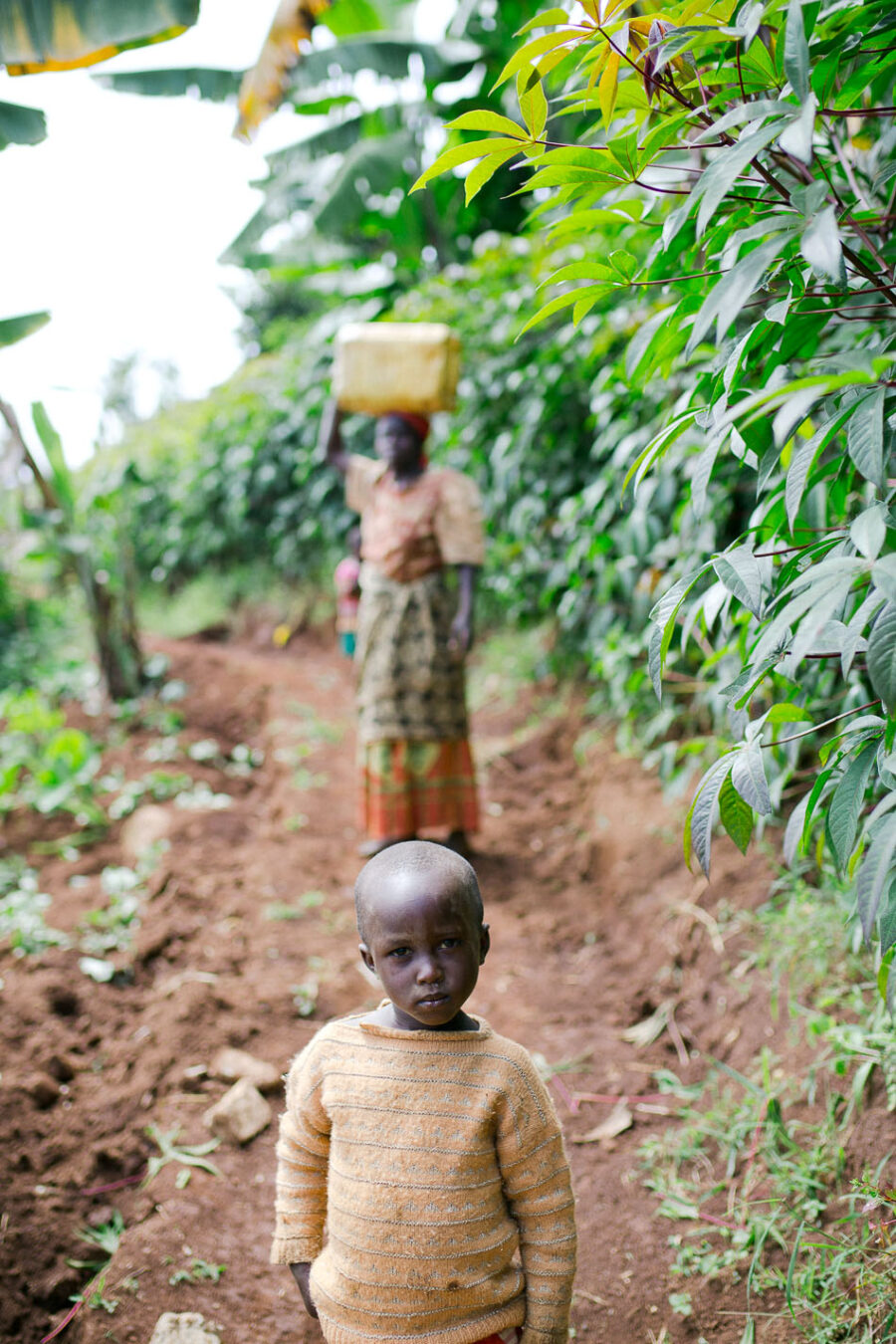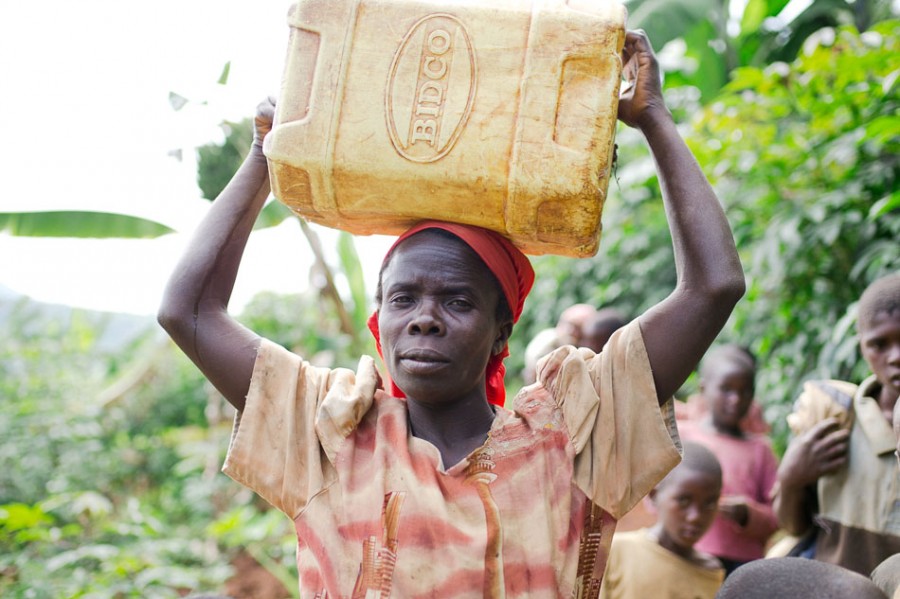 Above: Silva collecting coffee cherries near our Bukeye washing station  Here: Margadarena, a coffee farmer, and her son fetching water near Heza 
Sometimes it's hard for me to lay our encounters here out in neat strands of thought. Like last week, for example, when we were near Heza discussing all the challenges in front of us. We were having that conversation around our broken down vehicle. A crowd grew. Eventually about 50 people surrounded the car as our friend struggled to fix it. Whenever you think you are alone in Burundi, you are most definitely not. With one of the highest population densities in the world, "alone" is rarely an option.
A child came up to me. He caught me in a brow furrowing worry-drenched moment. "Why do you look at me like I'm an animal?" he said in perfect English. My insides churned. I defended myself. I told him he had misinterpreted me. I told him that we were here doing this thing because we believe in the dignity and value of every person. I felt like I had been on my last leg standing and with one small sentence, he had swept me off it. A shadow grew.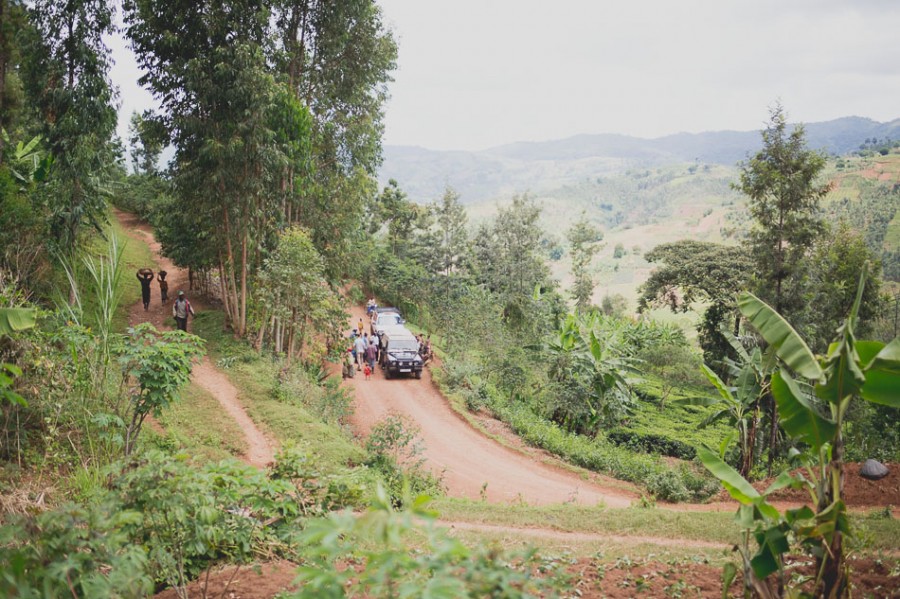 fixing the LMCP vehicle near Heza washing station
I have a friend who says, "There is hope!" like a tick-response to every difficulty. I tease her about it and I probably shouldn't because I think she is right. Shadows are so lovely because the shapes they cast are temporary. They are only a representative of darkness, morphing and drifting at the mercy of light and matter. Heza is beautiful and so is the community we've built it in. Farming families rooted on giant hills surround the station, each hill with a unique micro-climate and personality. On a steep mountainside at 1960 meters, with panoramic views of the Kibira National Forest and the nearest town a half -day walk away, Heza is a beautiful potential laden sight.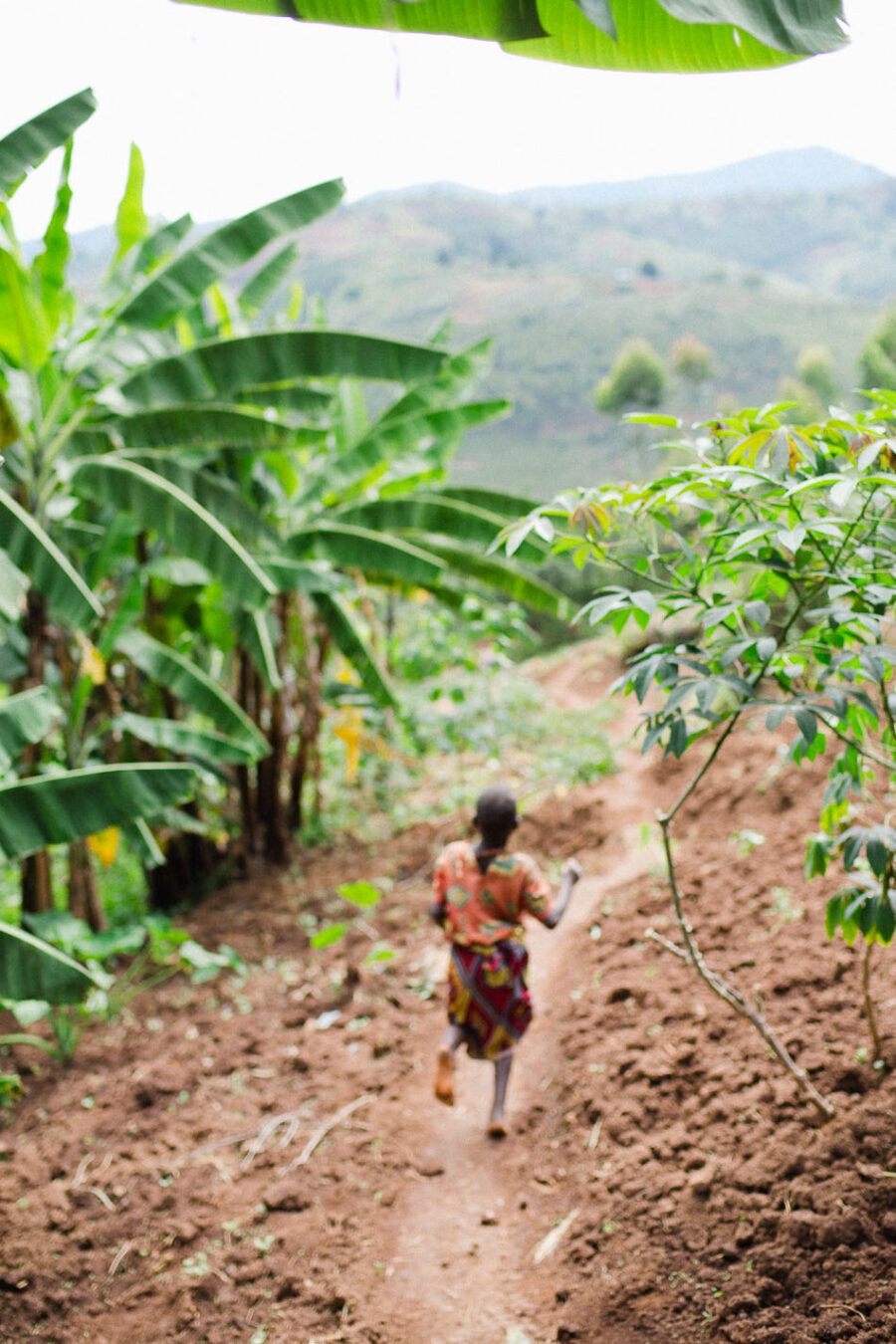 We will celebrate Heza's opening within days and in the meantime, we grasp onto strands of hope as they float by because, as Brene Brown says, "Hope is really a thought." If I could sear WE DO NOT LOSE HEART (2 Corinthians 4:1) on my skin right now I would. I need to remember every moment of the day that life is a journey that requires courage.
I leave you with more Brene Brown goodness:
"Numb the dark and you numb the light." 
"Wholehearted living is about engaging with our lives from a place of worthiness. It means cultivating the courage, compassion and connection to wake up in the morning and think, 'No matter what gets done and how much is left undone, I am enough.' It's going to bed at night thinking, 'Yes, I am imperfect and vulnerable and sometimes afraid, but that doesn't change the truth that I am also brave and worthy of love and belonging."
"Faith is a place of mystery, where we find the courage to believe in what we cannot see and the strength to let go of our fear of uncertainty."
"The root of the word courage is cor—the Latin word for heart. In one of its earliest forms, the word courage had a very different definition than it does today. Courage originally meant "To speak one's mind by telling all one's heart." Over time, this definition has changed, and, today, courage is more synonymous with being heroic. Heroics are important and we certainly need heroes, but I think we've lost touch with the idea that speaking honestly and openly about who we are, about what we're feeling, and about our experiences (good and bad) is the definition of courage."